The picturesque Coachella Valley, situated in radiant Southern California, encompasses nine vibrant cities known as the Greater Palm Springs Region. This destination, which boasts easy access to major metropolitan areas such as Los Angeles and San Diego (just a 2-hour drive away), as well as the glittering casinos of Las Vegas (only 4 hours away by car), is a popular choice for travelers seeking year-round sunshine. The region, which offers a range of activities and attractions for all ages and interests, is a prime spot for golf, tennis, and pickleball, as well as hiking, mountain biking, and horseback riding in the nearby Santa Rosa and San Jacinto Mountains.
Why Palm Springs is Popular
The region of Palm Springs, located in southern California's desert, sees an influx of tourists during the winter months seeking to escape cold weather. The area's population of 500,000 swells to over one million as snowbirds and other visitors flock to Palm Springs to take advantage of the various local attractions and the region's pleasant weather, which ranges from the 70s to low 80s from November to April. This mild climate makes Palm Springs an attractive destination for outdoor activities such as golf, tennis, and pickleball.
Major Draws for Visitors
The Palm Springs Region is a premier destination known for its nearly 350 days of radiant sunshine and more than 100 world-class golf courses, making it the perfect place for major events such as the Coachella and Stagecoach music festivals, the BNP Paribas Open, and various PGA golf tours. The area is also home to the newly built, state-of-the-art Acrisure Arena, which may be why Disney recently invested in 600 acres of land in the city of Rancho Mirage and is constructing a luxurious residential community called Cotino. Another exciting development in the region is the proposed La Quinta Surf Resort, which would feature a massive wave pool for surfing, luxury homes, and hotel rooms at an estimated cost of $1 billion. When it comes to shopping and dining, locals recommend visiting the upscale El Paseo in Palm Desert, the charming Old Town La Quinta, and the trendy Downtown Palm Springs. For those seeking a winter wonderland experience, the mountain communities of Idyllwild or Big Bear are just a short drive away, as the Palm Springs Region does not receive any snowfall.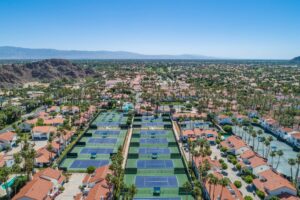 Places To Stay
From November to April, the Palm Springs Region attracts hundreds of thousands of tourists seeking luxury accommodations and sunshine. Many of these visitors choose to stay at lavish resorts such as the Desert Springs Marriott in Palm Desert, the elegant La Quinta Resort, and the prestigious Hyatt in Indian Wells. However, travelers looking for more flexible and potentially cost-effective options can consider short-term rentals on platforms like Airbnb and VRBO as an alternative to traditional hotels. Another option is Resort Pass, which allows visitors to access luxurious resort amenities such as pools for a single day without committing to a full stay. The Palm Springs Region is also home to a variety of vacation rentals, including private homes, villas, and condos, which can be a convenient and comfortable option for families or groups of friends traveling together.
Neighborhood Guide
If you're interested in discovering the various communities within the Palm Springs Region, the Community Guide is an excellent resource. This convenient and user-friendly tool, which is available for free on Residential Brokers website online, allows you to easily view and compare information about each community, including average price, homeowners' association fees, and the number of homes sold annually. You can also use the filter and sort function to tailor your search to your specific needs and preferences. The Palm Springs Region Community Guide is a valuable resource for anyone looking to buy a home or invest in real estate in the area. It is also a great way to learn more about the different neighborhoods and communities within the region and find the one that best fits your lifestyle and budget.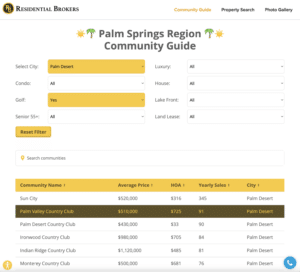 Budget-Friendly Resort Living
 Listed below are 9 full-service guard gated golf resort communities that provide onsite clubhouses, restaurants, gym facilities, and tennis and pickleball courts within the gates of the community. These communities offer condos with 2 bedrooms, 2 bathrooms, and approximately 1300 square feet in size, many with stunning golf views. In 2022, around 300 of these condos sold for prices between $300,000 and $500,000, and it is predicted that another 400 condos will sell within this price range in 2023. Local real estate broker Joseph Melara highly recommends considering communities in Palm Desert and La Quinta, as they are two of the most sought-after cities in the region. These communities offer a range of amenities and attractions, as well as a variety of homes, including single-family houses, townhouses, and condos, to suit different budgets and preferences.
Desert Falls Country Club
Woodhaven Country Club
Oasis Country Club
Palm Desert Resort
Palm Royale Country Club
The Lakes Country Club
Desert Princess Country Club
Palm Valley Country Club
Monterey Country Club
Looking Ahead to 2023
Despite economic uncertainties, the Greater Palm Springs Region is expected to remain a top destination for those seeking affordable vacation getaways and retirement options. The region, which is renowned for its exceptional year-round sunshine and diverse range of activities and attractions, has long been a popular choice for travelers from all over the world. It is anticipated that the Greater Palm Springs Region will continue to thrive in 2023 and beyond, thanks to its unique location and enduring appeal. The region offers a wide range of housing options, including single-family homes, condos, and townhouses, many of which are available at reasonable prices and offer access to amenities such as golf courses, clubhouses, and swimming pools. The region is also home to a variety of communities that cater specifically to retirees, offering a range of activities, services, and social opportunities for those seeking an active and fulfilling lifestyle in their golden years.